chiron duong's ethereal 'Portraits of Ao Dai'
Vietnamese artist Chiron Duong translates the dynamism of the Ao Dai Vietnamese traditional costume into an ethereal photo series of female figures. Through 'Portraits of Ao Dai', the artist reveals unfolding stories of personal memories connected to the Ao Dai tradition, fusing historical and modern values. His interest in the Ao Dai goes beyond the cliché of the periods in which women were subordinate in society but still wanted to be noticed. With his series, he also seeks to depict the symbolism of this garment, exuding a contemporary rhythm and recalling 'the rich history, cultural traditions, aesthetic conceptions, national consciousness, and spirit of the Vietnamese people.' 
Born in 1996, Duong studied landscape architecture in Vietnam and is now working as an architect and photographer. In his projects, he applies design principles from landscape architecture such as colors, lines, shapes, techniques, and materials to create unique spatial layouts while aiming to elicit feelings like euphoria, romance, optimism, and hope. The inspiration for his projects derives from Vietnamese and Asian cultures and beliefs, focusing on the mixture of the very unique and individual street life in Vietnam. Each photograph of the series indicates its own narrative and overflows with various forms, lines, and a vivid color palette that can evoke contradictory emotions such as sadness or happiness, optimism or disappointment.
Duong's artworks often merge two essential facets of the Ao Dai tradition: the airy, vivid clothes and the drama of nature by integrating beautiful flowers and plants. In his series, he aims to evoke the mysticism and folklore of Vietnam, which is enabled through textured shades as well as spiritual and fashionable photos. Fragile silhouettes portray a ghost-like effect, with parts of their body blurred or repeated. This way, he emphasizes the charm of each dress that embraces the sensual female presence. Find out more about Chiron Duong's photo series and his background on our interview below.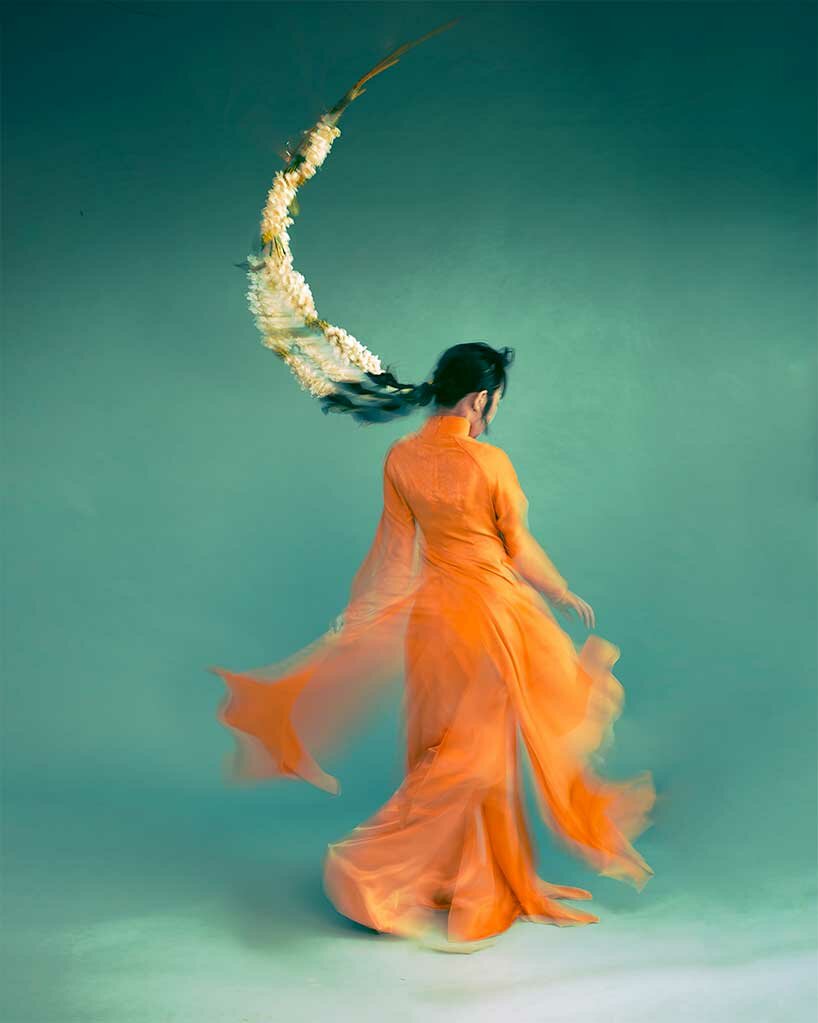 all images © Chiron Duong
interview with Chiron Duong
designboom (DB): What aspects of your background and upbringing have shaped your creative principles and philosophies?
Chiron Duong (CD): I trained as a landscape architect in Vietnam, during which time I taught myself photography. The principles and lessons learned from landscape architecture have influenced me greatly. There are two things that interest me: the first is how to create a personal identity and bring culture into my work. The second is how to express emotions and elicit them from viewers. I have applied design principles from landscape architecture such as colors, lines, shapes, techniques, and materials to create special spaces, etc., and the ability to perceive with the senses to create feelings like euphoria, romance, optimism, and hope in my work.
DB: Generally speaking, is there a particular message or sense that you want your images to convey?
CD: 'Hope for Peace and Love'. My style is always towards benevolence. I always want to inspire people about love and dreamy moments to find the meaning of this life. There are too many things in real life that make adults feel emotionless, so I hope I can ease the pain and evoke the hope and optimism of the child deep inside each person.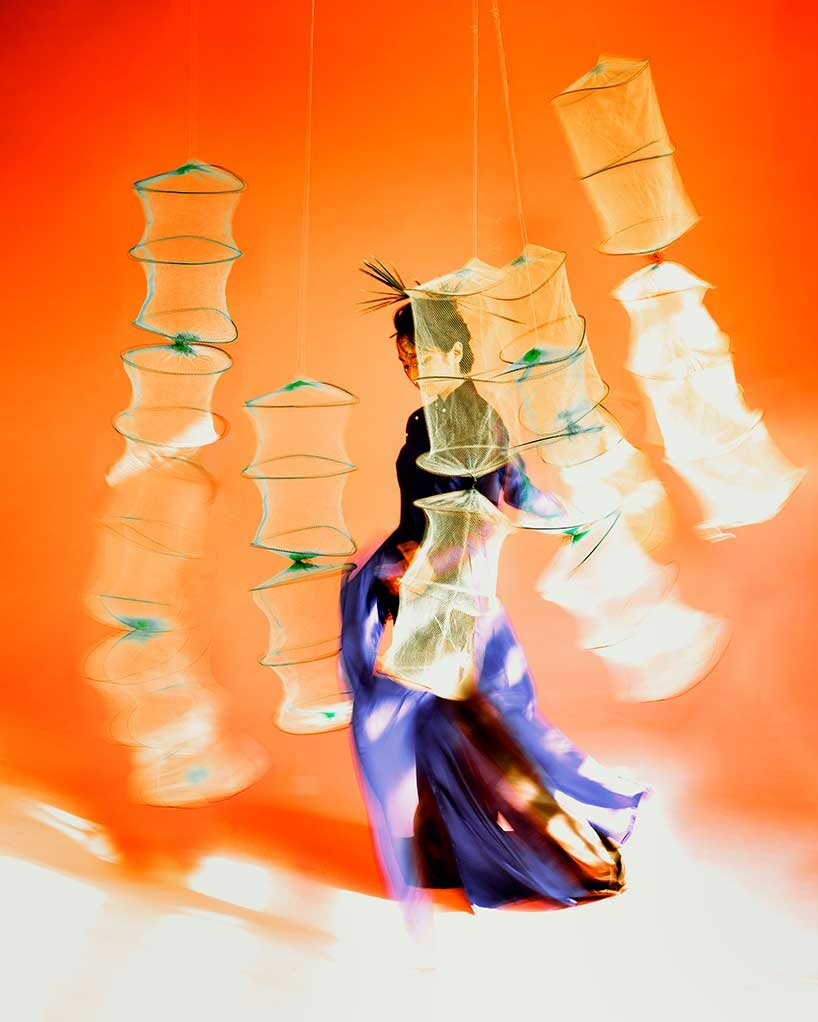 portraying traditional culture with a contemporary look
DB: What made you decide to start shooting portraits of traditional Ao Dai? What does this particular garment symbolize?
CD: I was asked this question by many international friends about the influence of the Vietnamese traditional dress 'Ao Dai', on my fashion photography style. After personal research, I was able to answer this question, it all comes from my personal origin and place to form the softness, flight, gentleness, and benevolence in the style of my photography. Then I started with 'Portraits of Ao Dai' (365 days with Ao Dai) to show my style cohesion with the image of Ao Dai — a unique identity of Vietnam.
Through this series of photos, I set out different stages to tell different stories from different inspirations, such as my personal memory of the image of Ao Dai from childhood to adulthood; Ao Dai in Vietnamese poetry and painting; Ao Dai with love for the motherland of Vietnam; Ao Dai with unique folklore activities of Vietnam; Ao Dai in times of war and aspiration for peace. All these themes are shown through the image of Vietnamese women wearing the Ao Dai. In fact, the Ao Dai is a special traditional costume of Vietnam and reflects unique traditional and modern values, but in the past few decades, many designers have turned the Ao Dai into a disaster fashion. At the same time, Ao Dai also fell into cultural appropriation.
he continues: To me, Ao Dai is both an adjective and a noun. Ao Dai represents the contrast between the rustic, simple, but at the same time strong and seductive Vietnamese woman; it reflects both the positive and negative of past historical periods in which women were looked down upon by the ancient society, and they had to silently learn to endure. In the modern era, the Vietnamese Ao Dai is not only a kind of national costume but also contains a long history, cultural traditions, aesthetic conceptions, national consciousness, and spirit of the Vietnamese people. Through many changes in society and times, Ao Dai has always been a beautiful symbol of the national culture and the pride of the Vietnamese people. The soft, gentle, and discreet beauty of the Vietnamese Ao Dai is reflected in the high neck, soft round shoulders, and two graceful skirts.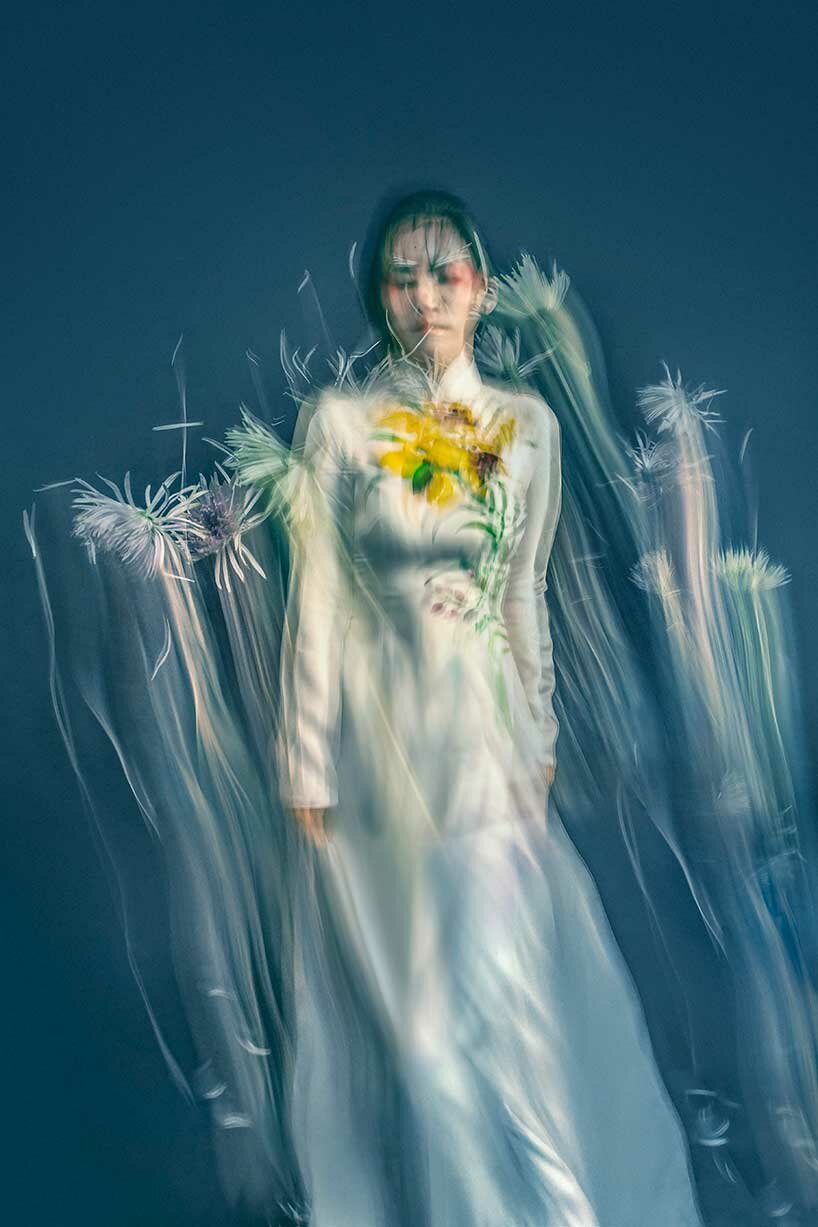 vivid flowers and plants add dynamism to the photo
DB: What role does color play in your images?
CD: I use color as a way to introduce myself: Color can remind you of my background. My colors are most evocative of Asia in general and Vietnam in particular. Colors help evoke emotions such as sadness or happiness, optimism or disappointment. However, I always use color with textures: fabrics, flowers, and others, to create more specific emotions. Sometimes I use a very cheerful color palette, but overall the image evokes regret or a sad memory. Color may or may not create a similarity to an emotion. These are interesting contrasts in my photos.
DB: You have described your book, 'Stroll Through Colorful Planets', as a walk on colorful planets, across the black holes of the universe and the galaxy.' What is the book about?
CD: This book is my personal photo book, it presents a small journey as I take pictures of fashion. It represents a past chapter in my journey. In this book, each set of images will have its own palette of colors and emotions, and it is like a journey through different planets. Sometimes wildly vibrant, boldly colored with Asian beliefs. Sometimes it's just black and white. To me, the colors of Asia, in general, are not only extremely vibrant, diverse, and airy, but they are also profound and full of philosophy (like white-black calligraphy, for example).